Breezy Point Resort in Minnesota is your winter wonderland headquarters for winter fun.
Snowmobiling: Breezy Point is located on the groomed trail system in the Lakes Area. Thousands of miles of trails surround the complex, 1500 miles in Crow Wing County alone! Newest of these is the Paul Bunyan State Trail which connects Brainerd to Bemidji, only five miles from the Breezy Point entrance.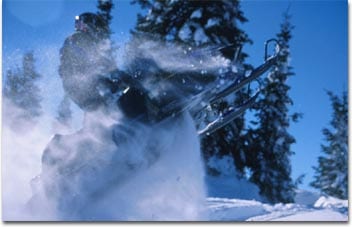 Cross Country Skiing: Equipment, trail maps and trail conditions are available at the Breezy Center Recreation Department.
Snow Golf: Work out your winter kinks on our links. Our 9-hole course on the lake has tree lined fairways and some unbelievable hazards. Participants use regular golf clubs and tennis balls.
Lighted Skating Rinks: In front of the Marina Dining Room or Antlers, you can show off your skating skills. You can also enjoy a bonfire sing-along.
Hay Rides: Both horse drawn and tractor drawn hay rides are available. Kids and parents enjoy this traditional favorite.
Downhill Skiing: Ski Gull is only a twenty minute drive. Equipment and lessons are available. Ski Gull has snow-making equipment and chair lifts.
Dog Sled Rides: Experience the excitement when the dog team leaps ahead, gathers speed and effortlessly pulls you along behind, wrapped in the cozy sled.
Marina Lounge: The spot for weekend nights with Recorded Music.
Pools: Breezy Point has two indoor pool and recreation areas. High Village boasts a pool, huge Jacuzzi & kiddie pool. Breezy Center has a pool, water volleyball, Jacuzzi, kiddie pool & sauna.
---
Visit the Premier resort - Breezy Point Resort!
Contact Breezy Point Minnesota
While you are here, visit all of the Brainerd Lakes Area.
Brainerd.com
Brainerd Lakes Vacationland
---